Intermediate English
Lesson 9 - Sports/Hobbies
Reading
On This Page
Read an article with advice about starting an exercise routine.
Answer questions about the article.
Write about your exercise routine.
English Reading Exercise
Starting an Exercise Routine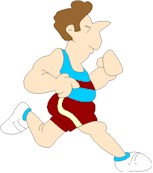 Paragraph 1
Do you want to get in shape?  That's great!  Doctors now believe that exercise is the most important factor in keeping you healthy.  It can keep your heart healthy, make you look fantastic, and even relieve stress.
Paragraph 2
If you're starting a new exercise routine, it's always a good idea to start with a visit to your doctor, especially if have had health problems in the past or you're older.  Your doctor can advise you of any exercises that you shouldn't do or that you should do differently depending on your health conditions.  
Paragraph 3
Don't do too much at first.  Many people try to do too much exercise when they begin a new exercise routine.  Then their muscles hurt, they get frustrated and they give up.  Start slowly with an easier exercise routine and try to do a little bit more every time you exercise.  You'll get stronger and stronger each week.
Paragraph 4
Do something fun!  Don't do aerobics if you hate them.  Find an exercise or sport that you enjoy doing and get a friend to do it with you to make it more fun.  Try different exercises or sports to see which one you like.  If you like variety, do a different form of exercise every day of the week.  Even walking is great exercise!
Instructions
What paragraph describes the following information.
Writing

Describe your exercise routine or an exercise routine that you want to begin. Write on a paper or on our blog.

     
Recommend Passport to English to your friends!
Click on NEXT to go to the next page in the lesson.