Intermediate English
Lesson 15 - Weather
Vocabulary
On This Page
Weather forecast vocabulary
Cardinal directions
Other vocabulary
Weather Forecast Vocabulary
Instructions
Print the vocabulary list.
Translate the words. (Google Translation - http://translate.google.com/)
- or -
Look up the English definition. (Longman Dictionary - http://www.ldoceonline.com/)

Do the exercises below. Click on a word to hear the pronunciation.
The Weather Forecast
Practice
Select the correct word.
Cardinal Directions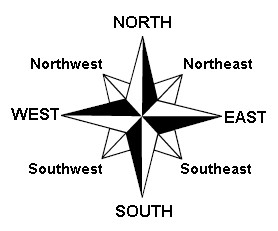 Other Vocabulary
compass
high
low
forecast
clear up
umbrella
chance
expect
enjoy
watch out
flight
delay
due to
renovate
sponsor
Recommend Passport to English to your friends!
Click on NEXT to go to the next page in the lesson.