Beginning English - Lesson 10 - Shopping
This page: Numbers 1- 1000, How to describe prices in English, Phrases used in stores
Pages in this lesson: Vocabulary - Grammar - Listening - Dialogue - Reading - Pronunciation - Dictation - Game
English Vocabulary
Instructions
Print the vocabulary list.
Translate the words. (Google Translation - http://translate.google.com/)
- or -
Look up the English definition. (Longman Dictionary - http://www.ldoceonline.com/)

Do the exercises below. Click on a word to hear the pronunciation.
Numbers Review
This guide in .pdf     All of the English Guides
* Use a hyphen between the tens and ones positions.
Prices
There are two ways to describe a price.
1) $2.50 = Two dollars and fifty cents
2) $2.50 = Two fifty
Practice
Write the prices in the long way.
example: 
$7.25 
Store Phrases in English
May I help you?
Here you go.
Can I try this on?
Of course
How does it fit?
Let me see.
I'll take it.
Practice
Put the parts of the dialogue in order. Write the number in the text box to indicate the order. Click on the CHECK button when you finish entering all of the numbers.
Other Vocabulary
salesperson
customer
try
fitting rooms
size
too
credit card
variety
discount
cost
purchase
want
Practice
Select the correct word.
Recommend Passport to English to your friends!
Beginning English - Lesson 10 - Shopping
Vocabulary - Grammar - Listening - Dialogue - Reading - Pronunciation - Dictation - Game
Learn English with live lessons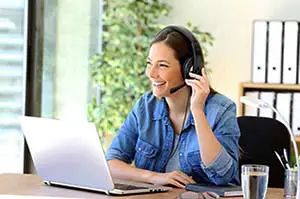 Live private lessons with italki, sponsor of Passport to English
Professional teachers with teaching experience
Free practice with other students in the italki community
Lessons for adults and children
Language tests to determine your level
Bonus 10 dollars (USD) in italki credits for Passport to English students when making their first purchase via the link below.
https://go.italki.com/passporttoenglish
Passport to English receives a commission from italki that allows us to continue offering our lessons free of charge to all students.