Beginning English - Lesson 12 - Health
This page: Parts of the body and health problems in English
Pages in this lesson: Vocabulary - Grammar - Listening - Dialogue - Reading - Pronunciation - Dictation - Game
The Body in English
Instructions
Print the vocabulary list.
Translate the words. (Google Translation - http://translate.google.com/)
- or -
Look up the English definition. (Longman Dictionary - http://www.ldoceonline.com/)

Do the exercises below. Click on a word to hear the pronunciation.
Parts of the Body
head
eye
nose
mouth
ear
neck
back
chest
stomach
shoulder
arm
elbow
hand
finger
wrist
leg
knee
ankle
foot (plural - feet)
toe
Video
Watch the "The English Minute" video below for an introduction to the vocabulary. The English Minute (www.theenglishminute.com) is website designed for mobile phones that has short English lessons with videos.
Practice
Identify the parts of the body.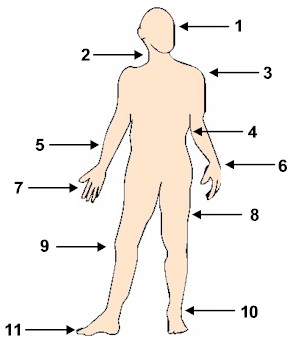 Health Problems in English
I have a . . .
headache
stomachache
backache
toothache
earache
cold
fever
cough
Practice
Select the correct word.
Other Vocabulary
hurt
feel
become
wash the dishes
lose weight
What's the matter?
tomorrow
rest
too much
so much
tip
advice
low
fat
calorie
liquid
at least
serving
instead of
dessert
healthy
temporary
stairs
smoke
elevator
Recommend Passport to English to your friends!
Beginning English - Lesson 12 - Health
Vocabulary - Grammar - Listening - Dialogue - Reading - Pronunciation - Dictation - Game