Advanced English
Lesson 8 - Clothes
Listening
On This Page
Listen to a dialog about a person packing for a trip.
Answer listening comprehension questions.
English Listening Exercise
What to pack?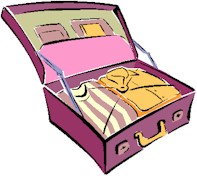 Instructions
Curt and his wife Tammy are going to visit their friend Ellen in Puerto Rico.  Listen and select what Ellen recommends that they pack. 
Recommend Passport to English to your friends!
Click on NEXT to go to the next page in the lesson.