Beginning English
Lesson 15 - Weather
Reading
On This Page
Read an article about the city of Chicago.
Answer reading comprehension questions about the article.
Write about the weather in your country or region on our blog.
English Reading Exercise
The Windy City
Chicago, where I am from, is called the "Windy City."  In the winter a cold wind blows off Lake Michigan and it snows a lot.  The temperature gets very cold, sometimes below zero.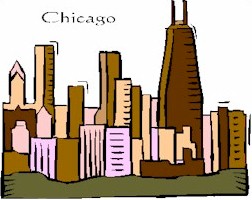 In the spring the weather is great.  It's warm and the snow melts.  People plant gardens and start to play outdoor sports like baseball.
In the summer it's hot and sometimes humid.  People swim and turn on their air conditioners to keep cool.  Sometimes it rains or we get thunderstorms.  
In the fall it's cool.  People prepare for winter and buy warm clothes like coats and hats.  The leaves change colors and fall from the trees.  It's very beautiful.

Practice
Select the correct season to answer each question.
Writing

Describe the weather in your country or region during the different seasons.

Write on a paper or on our blog.

     
Recommend Passport to English to your friends!
Click on NEXT to go to the next page in the lesson.