Beginning English
Lesson 13 - The City
Reading
On This Page
Read an e-mail message with directions to a person's house.
Determine which building is her house.
Write directions on our blog.
English Reading Exercise
The Party
Read the e-mail message below and answer the question.

Date:  August 15, 2011  10:00 AM

From:  Mary Wilkins <[email protected]>

To:  Sarah Franks <[email protected]>

Subject:  Party

Hi Sarah.  I'm glad you can come to my party Saturday night.  My house is easy to find.  From your house go straight up Broadway to the corner of Broadway and Second Avenue.  Turn right.  Go straight two blocks and then turn left.  It's on the left on the corner of First Avenue and Central Street.  See you Saturday!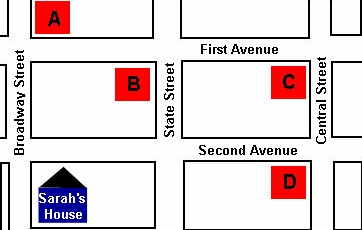 Which is Mary's house?
Writing

Describe how to go from one place to another (for example - from your house to your work, from your house to your school, from your work to the supermarket)

example  Go straight on Brendenwood Road.  Turn left.  etc.

Write on a paper or on our blog.

     
Recommend Passport to English to your friends!
Click on NEXT to go to the next page in the lesson.