Advanced English
Lesson 7 - Food
Game
On This Page
Put the steps of a recipe in order to review vocabulary from this lesson.
Potato Soup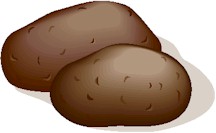 Ingredients
4 potatoes
1 onion
1 teaspoon salt
1/8 teaspoon pepper
4 cups water
2 tablespoons flour
2 tablespoons butter
1 cup milk
2 tablespoons bacon bits (pieces of bacon that have been fried and broken into small pieces)
Put the steps in the recipe in order. Indicate the order with a number in the text box.
Recommend Passport to English to your friends!
END OF LESSON
To begin the next lesson click on "NEXT".