Intermediate English
Lesson 7 - Food
Reading
On This Page
Read an article about nutrition.
Answer True/False questions about the article.
Write about what you ate on our blog.
English Reading Exercise
What's on your plate?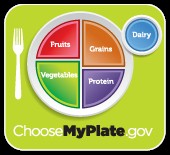 Imagine dividing your plate into four sections. One section is for fruits, one for vegetables, one for grains, and one for protein. Imagine that the grain and vegetable sections of the plate are a little larger than the other two sections. Imagine a glass of milk or side with a dairy product with your meal, and your healthy plate is complete. This is what a healthy meal looks like according to the recommendations of the United States Department of Agriculture's (USDA) ChooseMyPlate program.*
Adults should eat 2 cups of fruits and 2 1/2 cups of vegetables total every day. According to the USDA, we should eat more red, orange, and dark green vegetables like tomatoes, carrots, and broccoli.
We should eat six ounces of grains every day. One ounce is one slice of bread or 1/2 cup of rice, pasta, or cereal. At least half of your grains should be whole.
We should eat three cups of dairy products every day. These can be milk, cheese, yogurt, or any other dairy product. Choose low-fat or non-fat dairy products when possible.
Adults should also eat 5 1/2 ounces of protein every day. Protein sources include meat, seafood, nuts, beans, and eggs. Try to eat fish or some other seafood at least twice a week.
Include these categories of foods in the recommended amounts in your meals and you'll soon be much healthier.
*The ChooseMyPlate program and image were created by the U. S. Department of Agriculture (http://www.choosemyplate.gov/).
Instructions
Answer the questions with "True" or "False".
Writing

Write what you ate yesterday (breakfast, lunch, dinner, and snacks).

Write on a paper or on our blog.
Recommend Passport to English to your friends!
Click on NEXT to go to the next page in the lesson.