Intermediate English
Lesson 15 - Weather
Reading
On This Page
Read a weather forecast from a newspaper.
Identify the correct weather forecast information based on a weather map.
Write your local weather forecast on our blog.
The Weather Forecast
Instructions
Read the weather forecast in the newspaper.
The News Gazette

Friday, May 1st - 30 cents

The National Weather Forecast

You can expect rain and cooler temperatures today in the Northeast with the highs in the upper 60s. In the Southeast there might be tornados, so watch out. In the South it'll be hot and sunny. In the Midwest there is a 70% chance of thunderstorms. In the North it'll be windy again today with extremely cold temperatures. In the Northwest they're expecting snow and cooler temperatures today. In the Southwest it'll be party cloudy and warmer today.

International Weather

London - cloudy
high 60 F - low 51 F

Paris - party cloudy
high 65 F - low 49 F

Madrid - sunny
high 93 F - low 82 F

Mexico City - sunny
high 95 F - low 80 F

Tokyo - rainy
high 52 F - low 42 F

Buenos Aires - windy
high 71 F - low 67 F

Toronto - snowy
high 26 F - low 19 F

The Travel Report

Expect flight delays in the midwest due to the storms moving into the area this afternoon. The Miami airport will be closed because of high winds and a possibility of tornados. Be careful if you're driving in the Northwest because roads there have been very icy. If you fly into Chicago's O'Hare airport, plan some extra time to find your gate. They're renovating Terminals 1 and 2.

Weather Trivia Contest

The News Gazette is sponsoring a weather trivia contest. We'll print the answer in tomorrow's weather page.

What's the hottest city in the world?
Practice
Select the correct forecast for each region based on the weather map.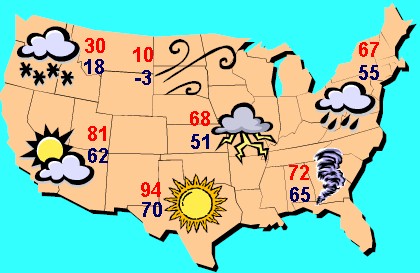 Do you know what the answer to the trivia question is?
Writing

Write a weather forecast for your country or region. Write on a paper or on our blog.
Recommend Passport to English to your friends!
Click on NEXT to go to the next page in the lesson.