Intermediate English
Lesson 11 - Transportation
Listening
On This Page
Listen to a dialog of two police officers talking about a car accident.
Identify what each of the witnesses to the accident said.
English Listening Exercise
The Accident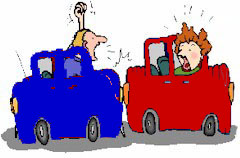 Instructions
Match the person with what they said.
Recommend Passport to English to your friends!
Click on NEXT to go to the next page in the lesson.