Advanced English
Lesson 12 - Health
Listening
On This Page
Listen to a dialog with a person who just finished a first aid class.
Answer listening comprehension questions.
English Listening Exercise
The First Aid Class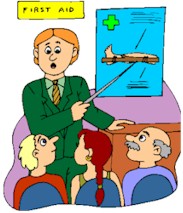 Instructions
Select the treatment that they recommended in the first aid class.
Recommend Passport to English to your friends!
Click on NEXT to go to the next page in the lesson.