Beginning English
Lesson 14 - Animals
Reading
On This Page
Read an article about animals from North America.
Answer reading comprehension questions.
Write about an animal from your country or region on our blog.
English Reading Exercise
Animals of North America
Bear


There are eight different kinds of bears in the world.  Brown bears and black bears live in many areas of North America and polar bears live in parts of Alaska and Canada.   Many kinds of bears hibernate, or sleep in the winter.  This helps them save energy.  In the winter the baby bears, or cubs, are born.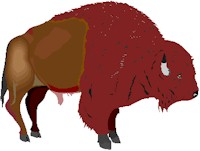 Bison
The bison, which is also called the buffalo, has a big head and curved horns.  Bison live in herds, or groups of animals, in the western United States and Canada.  An adult bison can weigh up to 2000 pounds and a large bison can eat as much as 60 pounds of grass a day!


Beaver
The beaver is a large rodent with a flat tail that it uses for swimming and for balancing.  The beaver is famous for its ability to build dams in rivers and streams.


Raccoon
The raccoon is a small mammal that looks like it's wearing a mask.  It has a striped tail.  Raccoons are omnivorous, which means that they can eat many different things.  They have very dexterous paws which they can use to open containers to get at the food inside.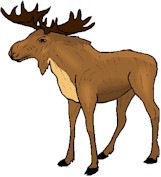 Moose
A moose is a member of the deer family.  In the spring the male moose grows a set of antlers on its head which he loses in the following winter.  Moose can grow to be 7 feet tall and 1500 pounds.  Moose are herbivores, which means that they eat plants.   

Practice
Select the correct answer.
Writing

Describe an animal (or animals) from your country or region. Write on a paper or on our blog.

     
Recommend Passport to English to your friends!
Click on NEXT to go to the next page in the lesson.