Beginning English - Lesson 4 - Work
This page: Read about four people's jobs.
Pages in this lesson: Vocabulary - Grammar - Listening - Dialogue - Reading - Pronunciation - Dictation - Game
"Four Jobs"
Reading Exercise
Helen
My job is very interesting.  I write articles for a travel magazine.  I travel to exotic places and do interesting things.
Nancy
Hi!  My name is Nancy.  I teach English in Japan.  I teach 12-year-old children English classes three days a week.  
Bob
I'm Bob.  I work at the zoo.  I give tours to groups of school children.  I walk through the zoo with school groups and teach the children about the animals. 
Monserrate
Hello.  My name is Monserrate.  I'm a clothing designer in Hollywood.  I design clothes for famous actors and actresses.  My designs are in all of the big Hollywood movies.
Practice
Write sentences with the information below about the four people above.
write articles
teach English in Japan
design clothes
work at the zoo
Writing
Describe what you do for your job or a friend or family member's job. You can write on piece of paper or in the comments section below.
Examples

I am a waitress. I serve food in a restaurant.

My husband is a doctor. He helps patients.
comments powered by
Recommend Passport to English to your friends!
Beginning English - Lesson 4 - Work
Vocabulary - Grammar - Listening - Dialogue - Reading - Pronunciation - Dictation - Game
Learn English with live lessons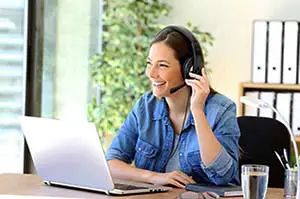 Live private lessons with italki, sponsor of Passport to English
Professional teachers with teaching experience
Free practice with other students in the italki community
Lessons for adults and children
Language tests to determine your level
Bonus 10 dollars (USD) in italki credits for Passport to English students when making their first purchase via the link below.
https://go.italki.com/passporttoenglish
Passport to English receives a commission from italki that allows us to continue offering our lessons free of charge to all students.