Beginning English - Lesson 11 - Transportation
This page: Review of the verbs have and has, The prepositions in, on, and at with time expressions
Pages in this lesson: Vocabulary - Grammar - Listening - Dialogue - Reading - Pronunciation - Dictation - Game
Review of Have/Has
Affirmative and Negative
Question
I       have
You   

don't have


We
They
Do you have _____?
we
they
I
He     has
She   

doesn't have


It
Does he have _____?
she
it
Practice
Write sentences using have or has. Some are negative (See the examples).
examples
You/car

She/no bicycle

Practice
Change the sentences to questions.
They have a computer.

in/on/at with time expressions
This guide in .pdf.     All of the English Guides
IN
with years
   in 1990
with months
   in March
with parts of the day like "the morning", "the afternoon", "the evening"
    in the morning
    in the afternoon
    in the evening
with seasons
    in the summer
    in the winter
with periods of time
    in five minutes
    in three months
    in twenty years
ON
with days
    on Tuesday
with dates
    on June 21, 1955
with the day together with the part of the day
    on Wednesday morning
    on Friday night
    on Sunday afternoon
AT
with times
    at 5:00 PM
Practice
Select the correct preposition.

Instructions
Find the errors in the sentences.  Write the sentences correctly.
example
She are a student. --> She is a student. 
Recommend Passport to English to your friends!
Beginning English - Lesson 11 - Transportation
Vocabulary - Grammar - Listening - Dialogue - Reading - Pronunciation - Dictation - Game
Learn English with live lessons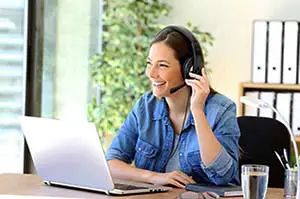 Live private lessons with italki, sponsor of Passport to English
Professional teachers with teaching experience
Free practice with other students in the italki community
Lessons for adults and children
Language tests to determine your level
Bonus 10 dollars (USD) in italki credits for Passport to English students when making their first purchase via the link below.
https://go.italki.com/passporttoenglish
Passport to English receives a commission from italki that allows us to continue offering our lessons free of charge to all students.