Beginning English - Lesson 5 - Family
This page: Write sentences about a family tree and read a paragraph about a family.
Pages in this lesson: Vocabulary - Grammar - Listening - Dialogue - Reading - Pronunciation - Dictation - Game
"The Family Tree"
Reading Exercise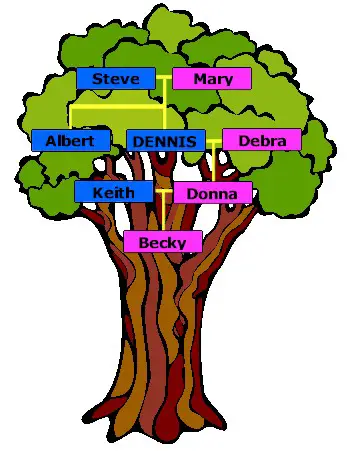 Practice
Write a sentence describing who each person is in relation to Dennis.
example
Steve
My name is Dennis and this is my family tree.  My father's name is Steve.  He is an architect and he lives in Texas with my mother Mary.  My mom is a very talented artist.  She paints beautiful pictures.  I have one brother named Albert.  He's a computer engineer. My wife's name is Debra.  She's a nurse at the same hospital where I work.  I work in the lab. My daughter Donna is a doctor in New York.  Donna's husband's name is Keith.  He's a restaurant manager.  They have a little girl named Becky who is three years old.
Practice
Read the article above and answer the question below. Select the correct answer.
Writing
Write a paragraph about your family. What are their names? Where do they live? What is their job? Follow the example above where Dennis describes his family. You can write on piece of paper or in the comments section below.
comments powered by
Recommend Passport to English to your friends!
Beginning English - Lesson 5 - Family
Vocabulary - Grammar - Listening - Dialogue - Reading - Pronunciation - Dictation - Game