Beginning English - Lesson 12 - Health
This page: The auxiliary verb "should"; The verb "have to"
Pages in this lesson: Vocabulary - Grammar - Listening - Dialogue - Reading - Pronunciation - Dictation - Game
should
We use the word "should" in English to give advice.   
You should study.
The negative is "should not" or the contraction "shouldn't."
You shouldn't eat so much.
Practice
Give advice to these people.
example  
I have a headache.  (take an aspirin)

Practice
Give advice, based on your opinion, to these people.
Click on the CHECK button when you finish the five sentences.
example
Should I get a cat or a dog? 

Possible answers:

  - or -
  
(The answer depends on what you recommend, a cat or dog in this case.)
Practice
Mario wants to learn English quickly.  Tell him what he should and shouldn't do.
examples
watch TV in English


watch TV in Italian

have to
The verb "have to" expresses obligation. The verb is conjugated the same as the verb "have" alone.
Affirmative and Negative
Question
I    have to . . .
You  

don't have to . . .


We
They
Do you have to _____?
we
they
I
He has to . . .
She  

doesn't have to . . .


It
Does he have to _____?
she
it
Practice
Which of these things do you have to do tomorrow and which don't you have to do?
example
wash my clothes

  - or -
  

Instructions
Find the errors in the sentences.  Write the sentences correctly.
example
She are a student. --> She is a student. 
Recommend Passport to English to your friends!
Beginning English - Lesson 12 - Health
Vocabulary - Grammar - Listening - Dialogue - Reading - Pronunciation - Dictation - Game
Learn English with live lessons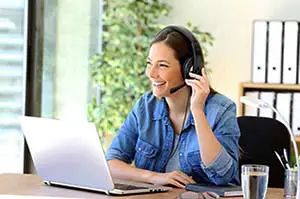 Live private lessons with italki, sponsor of Passport to English
Professional teachers with teaching experience
Free practice with other students in the italki community
Lessons for adults and children
Language tests to determine your level
Bonus 10 dollars (USD) in italki credits for Passport to English students when making their first purchase via the link below.
https://go.italki.com/passporttoenglish
Passport to English receives a commission from italki that allows us to continue offering our lessons free of charge to all students.