Beginning English
Lesson 16 - The Future
Game
On This Page
Fortune teller game to review the verb "will"
Review of Future Tense
The Fortune Teller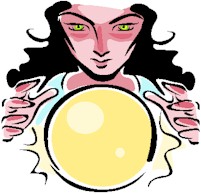 Madame Cosmos is a fortune teller.  Answer her questions and she will tell you YOUR future.  Just for fun!  

Recommend Passport to English to your friends!
END OF LESSON
To begin the next lesson click on "NEXT".