Intermediate English
Lesson 4 - Work
Listening
On This Page
Listen to a person interviewing for a job.
Answer True/False listening comprehension questions.
English Listening Exercise
The Job Interview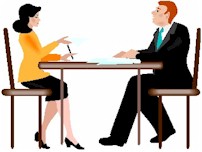 Practice
Listen to the dialog and answer the questions with True o False.
Recommend Passport to English to your friends!
Click on NEXT to go to the next page in the lesson.